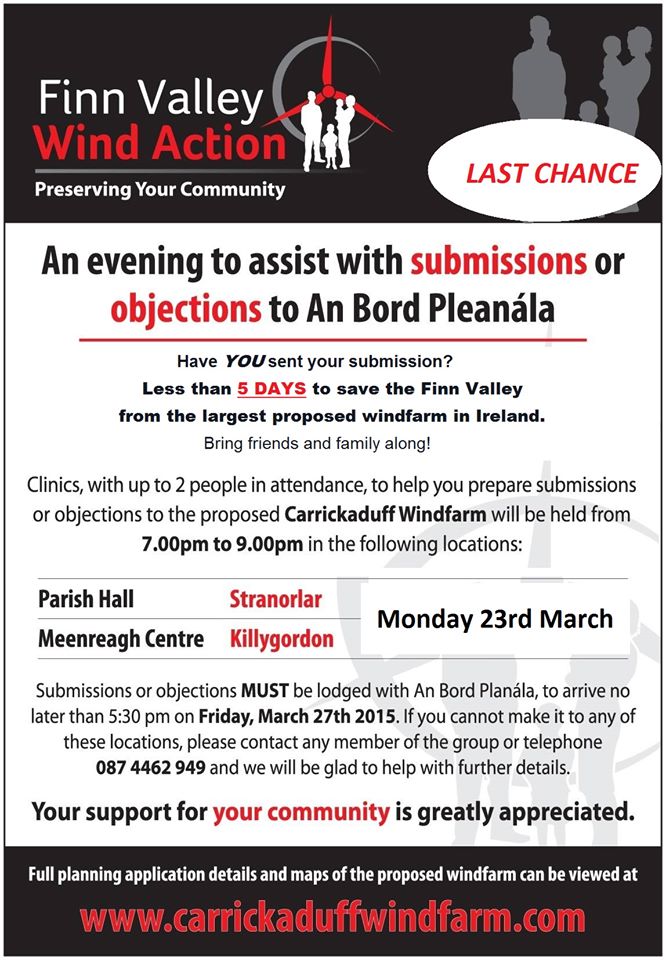 Time is running out for those of you who wish to make a submission to An Bord Pleanála in relation to the monster 49-turbine Carrickaduff windfarm proposal in the Finn Valley, Donegal.
Valid submissions and observations, including a €50 fee, must arrive at the board no later than 5:30pm on Friday 27 March 2015.  As advertised in the flyer above the Finn Valley Wind Action Group are holding information evenings to assist those of you who wish to lodge your objections to the project.  If you follow this <link> to An Bord Pleanála the Board also provide advice on how to make a submission or observation.  Details of An Bord Pleanála's reference number for the application can be found <here>.
Here at CAWT – Donegal we are happy to link to copies of submissions and objections from individuals/organisations (including political parties) in order to demonstrate the widespread opposition to this proposed development and to show you how easy it is to object.  If you want your submission considered for publication on this blog email: cawt.donegal@gmail.com.
Submissions:
Sinn Fein – 16 March 2015 (opens as a word document, please note An Bord Pleanála have not yet recorded this submission as being received).
Thanks to all who have shared their submissions with us for publication on this blog.
________________________
Last updated: 21 March 2015